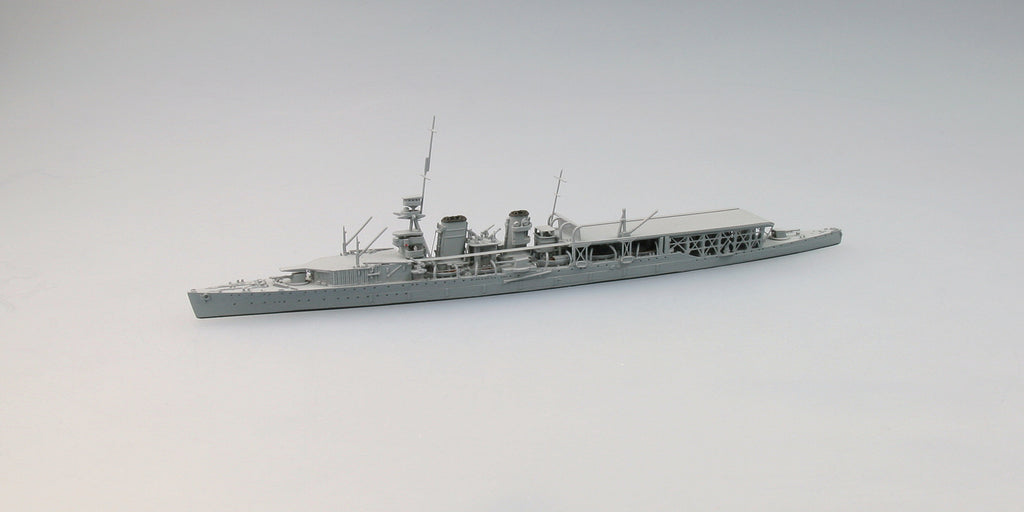 Spider Navy
SN 1-05 HMS Vindictive 1919
New 1/1250 scale waterline model of the British aircraft carrier HMS Vindictive by Spider Navy (SN 1-05) as in 1919.
Originally designed as a Hawkins class heavy cruiser and laid down under the name Cavendish.  She was converted into an aircraft carrier while still building. Renamed in 1918, she was completed a few weeks before the end of the war and saw no active service with the Grand Fleet. The following year she participated in the British campaign in the Baltic against the Bolsheviks during which her aircraft made numerous attacks against the naval base at Kronstadt. Vindictive returned home at the end of the year and was placed in reserve for several years before her flight decks were removed and she was reconverted back into a cruiser. The ship retained her aircraft hangar and conducted trials with a aircraft catapult before she was sent to the China Station in 1926. A year after her return in 1928, she was again placed in reserve.
Vindictive was demilitarized and converted into a training ship in 1936–1937. At the beginning of the Second World War she was converted into a repair ship. Her first role after the conversion was completed in early 1940, however, was to transport troops during the Norwegian Campaign. She was then sent to the South Atlantic to support British ships serving there and, in late 1942, to the Mediterranean to support the ships there. She returned home in 1944 and was damaged by a German torpedo off the coast of Normandy after the Allies invaded France. She was reduced to reserve after the war and sold for scrap in 1946.
---
Share this Product
---
More from this collection